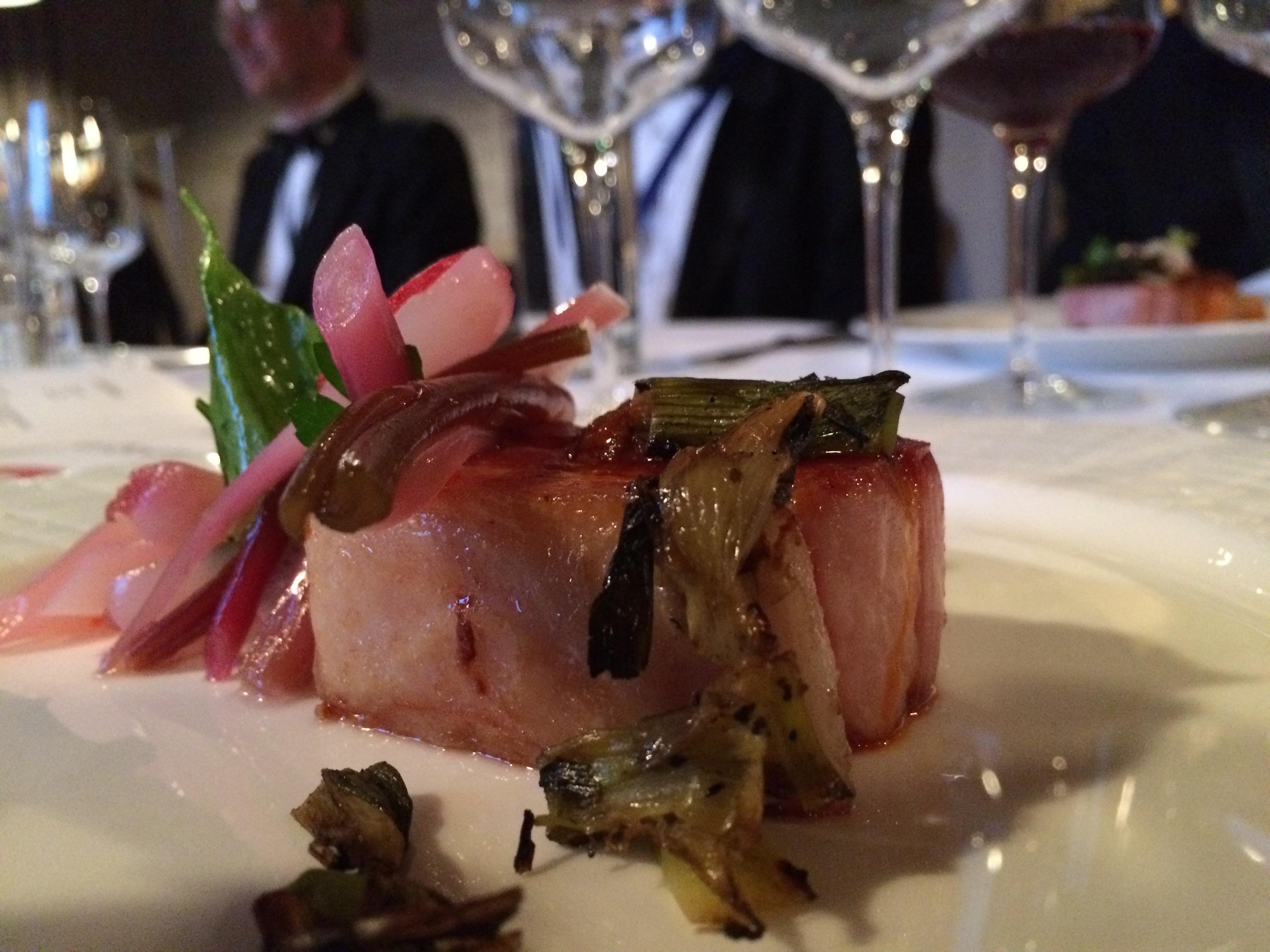 19 May

Salero – Dinner #324
The Menu
PASSED HORS D'OEUVRES
Maine Sea Urchin
On toast with jamon and avocado.
FIRST
Bigeye Tuna Crudo
With green olive salsa, black olive aioli, and artichokes.
SECOND
Grilled Lobster
With chorizo-saffron bomba rice, sweet peppers, and manila clams.
THIRD
Roast Breast of Pork
With pickled ramps, shaved radishes, and 'nduja vinaigrette.
FOURTH
Grilled Hanger Steak
With morel mushrooms, grilled asparagus, fingerling potatoes, and bernaise.
FIFTH
Chocolate Cremeux
With vanilla braised pineapple, yogurt, cake crumbs, and chocolate ice cream.
The Wine
Laurent-Perrier Champagne Grand Siècle "La Cuvée", Cellar selection
An exquisite blend of three vintages, fresh and mature, complex and focused.
1995 Duval-Leroy Champagne Femme de Champagne, Cellar Selection
76% Chardonnay, 24% Pinot Noir for this vintage. From the Côte des Blancs, Vallée de la Marne and Montagne de Reims. This wine has great balance, with a soft, rounded, creamy structure.
1981 R. López de Heredia Rioja Blanco Gran Reserva Viña Tondonia, Cellar Selection
This is one of the most traditional wineries in Spain. This wine is rich, deep and beautifully concentrated, with ripe pear and poached apple flavors complemented by marzipan and vanilla.
1976 R. López de Heredia Rioja Gran Reserva Viña Tondonia, Cellar Selection
The Viña Tondonia comes from López de Heredia's most famous vineyard, planted along the Ebro River on alluvial clay soil with a high limestone content.
1987 Bodegas Vega-Sicilia Ribera del Duero Único, Cellar Selection
Tempranillo 80%, Cabernet Sauvignon 10%, Merlot & Malbec 10%. An equally dark, dense color here, but a more earthy hue. Splendid nose of fruit and spices, quite spicy. Striking fruity, with a few flashes of acidity and freshness.
Alvear Pedro Ximénez Montilla-Moriles Solera 1927, Cellar Selection
The 1927 Pedro Ximénez Solera, from a Solera begun nearly 80 years ago, boasts a dark amber color as well as an extraordinary nose of crème brulee, liquefied nuts, marmalade, and maple syrup. Huge and viscous, yet neither sweet nor heavy.