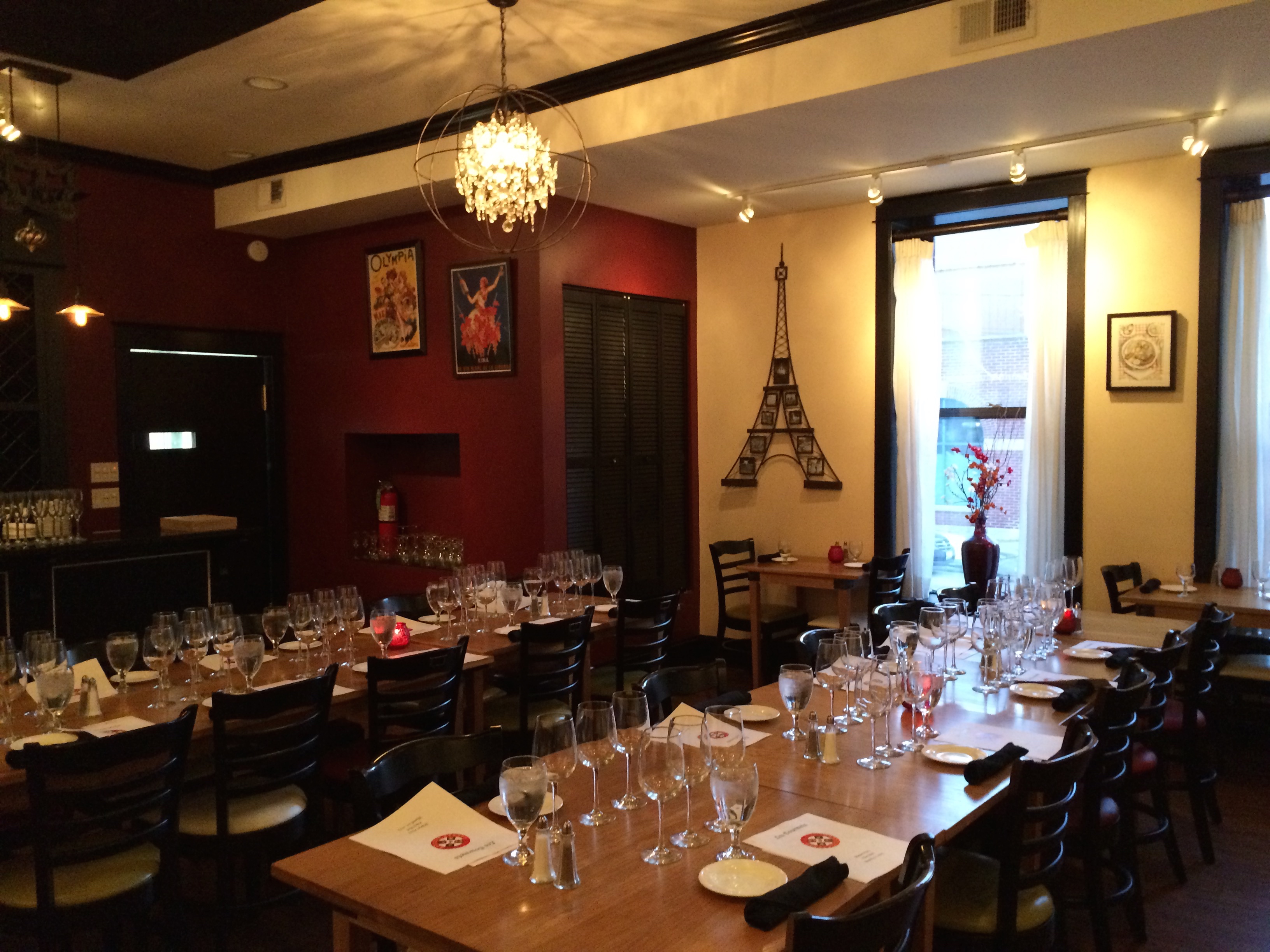 10 Mar

Chez Moi – Dinner #323

For our March 2015 dinner, we enjoyed the excellent bistro food of chef Dominique Tougne at Chez Moi.
The Menu
PASSED HORS D'OEUVRES
Tuna Tartare
Onion and Bacon Tart
Duck Liver Mousse
FIRST
Winter Squash Soup
Soup of pureed winter squash.
SECOND
Green Lentil Salad with Smoked Duck Breast
Cold smoked duck breast served with du Puy lentils and dressed with greens and a vinaigrette.
THIRD
Bay Scallops in half shell, Confit Endives
Scallops broiled in their shell and topped with citrus.
FOURTH
Pan Seared Venison, Lingonberry, Bordelaise Sauce
Venison loin in a lingonberry bordelaise sauce. The berries add just the right amount of fruitiness to the earthy red wine sauce.
FIFTH
Ossau-Irati, Poached Pear in Red Wine
Wonderful sheep's milk cheese served with red wine poached pear.
SIXTH
Gâteau Breton, Salted Caramel Sauce, Caramelized apple, Fromage Blanc Ice Cream
Riff on the famous shortbread biscuit cake of Brittany.
The Wine
2002 Launois Pere& Fils Grand Cru Brut Blanc de Blanc, Cellar selection
Made from two plots of 65-year-old vines, one in the Grand Cru of Oger called the Chenys and one in Mesnil called the Derriere Maison, this is one of the ultimate expressions of Chardonnay.
2002 Martin Schaetzel Riesling Grand Cru Rangen, Cellar Selection
Certified in biological and biodynamic agriculture since the 1990s. Hints of ripe and candied fruit. The great minerality gives this wine a wonderful aftertaste. A great wine.
2005 Domaine Ruet Cote de Brouilly
This wine is 100% Gamay with the average vine age 40 to 50 years old. They use traditional Beaujolais (semi-carbonic) Wine making methods using whole bunches.
2000 Clos de la Coulee de Serrant, Cellar Selection
Composed of 100% Chenin white cultivated with low yields on ground shale and quartz, this white wine has been aged in oak barrels for 6 to 8 months.
2000 Domaine Michel Ogier Cote Rotie, Cellar Selection
This wine is made of 100% Syrah and is aged for 30 months in new oak. They are true to terroir and are made with either whole bunch or de-stemmed grape fermentation depending on terroir and vintage.
1990 Chateau de Marbuzet Saint Estephe, Cellar Selection
Now made from the seven hectares of vines that surround the Château. The high proportion of merlot, rather unusual in traditional blendings, as well as a long maturing in new oak barrels, greatly contribute to the mellowness of the wine.
1990 Chateau de Fargues Sauternes, Cellar Selection
1990: The most powerful of the 88-89-90 trilogy. An early-ripening year producing grapes saturated with sunshine. Thanks to extraordinary weather during the harvest (hot, sunny, and with an easterly wind), the size of the crop was much greater than average, which did not prevent this from being one of the most memorable wines in the château's history.