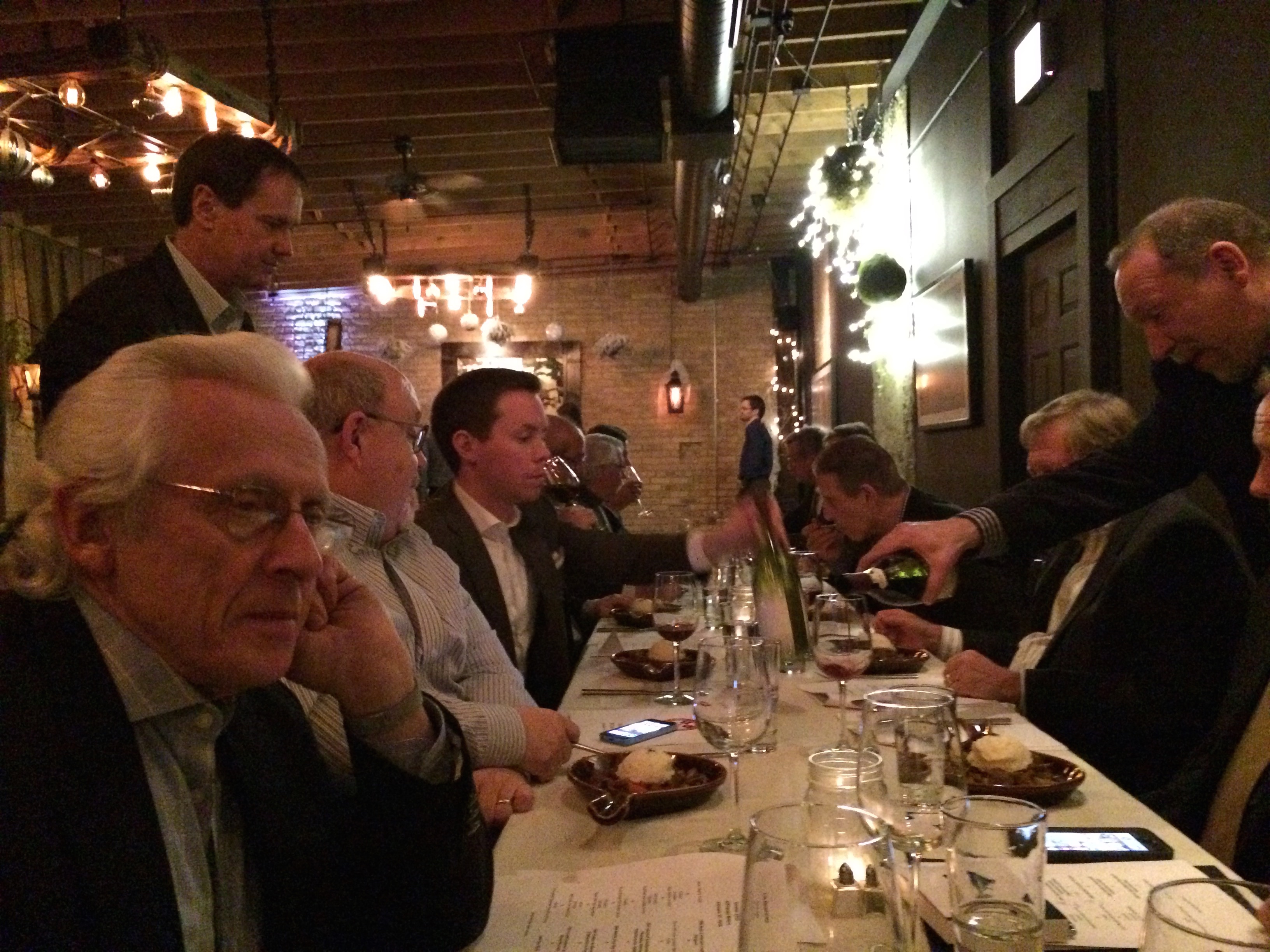 27 Jan

ARTango Bistro – Dinner #322

For our January dinner, we sampled Peruvian and Argentinian specialties at ARTango Bistro.
The Menu
FIRST
Tiradito
Peruvian ceviche of sea bass and passionfruit.
SECOND
Causas
Trio of Peruvian potatoes with octopus, shrimp, and scallop.
THIRD
Duck Breast with fig port sauce
Transition from sea to land with a seared duck breast served with a fig and port sauce.
FOURTH
Casuela
Chilean casuela of braised oxtail served over root vegetables and mushrooms.
FIFTH
Entraña
Traditional Argentinian skirt steak with chimichurri sauce.
SIXTH
Chocolate Amaretto Hazelnut Mousse
Rich, decadent dessert.
The Wine
NV Krug Champagne Brut Grande Cuvée, Cellar Selection
Krug Grande Cuvée is a blend of around 120 wines from ten or more different vintages, some of which may reach 15 years of age. Blending so many vintages gives Krug Grande Cuvée its unique fullness of flavors and aromas, its incredible generosity and its absolute elegance.
1996 Moët & Chandon Champagne Cuvée Dom Pérignon, Cellar Selection
Dom Pérignon serves as that house's prestige champagne. It is named after Dom Pérignon, a Benedictine monk who was an important quality pioneer for Champagne wine but who, contrary to popular myths, did not discover the champagne method for making sparkling wines.
2013 Cliff Lede – Sauvignon Blanc, Napa Valley
A blend of 91% Sauvignon Blanc, 7% Sémillon, 2% Sauvignon Vert This wine displays alluring aromas of lemon verbena, fall persimmon, and fresh white peaches and should pare perfectly with our Ceviche course.
2007 Dönnhoff Schloßböckelheimer Felsenberg Riesling Felsentürmchen Spätlese, Cellar Selection
The Dönnhoff family first came to the Nahe region over 200 years ago, and after establishing a modest farm slowly evolved into a full-fledged wine estate. Helmut Dönnhoff has been making the wine since 1971.
2008 Melville Pinot Noir Terraces, Cellar Selection
Founder Ron Melville's passion for Burgundy led him to develop 82 acres along Highway 246 in Lompoc. He planted Chardonnay and Pinot Noir primarily and built a beautiful Mediterranean villa housing the visitor center and winery.
1989 Château de Beaucastel Châteauneuf-du-Pape, Cellar Selection
Wine Spectator's Wine of the Year in 1991, this wine is considered by many to be a benchmark of quality for the appellation.
1991 La Jota Cabernet Sauvignon Howell Mountain, Cellar Selection
Founded in the 1890s, La Jota Vineyard Co. overlooks Napa Valley from high upon Howell Mountain. The volcanic soils, elevation and climate of this unique site yield wines of great fruit intensity, structure and aging potential.
1985 Dow Porto Vintage, Cellar Selection
For over two centuries the name of DOW has been associated with the finest Port from the vineyards of the Upper Douro Valley. Throughout the 20th Century and into the 21st, the Symington family has built on the legacy of the preceding Silva and Dow families.